Does this sound familiar? You've just scored a first pressing of Talking Heads' Fear of Music, you know, the one with the textured cover, and despite noticeable ring wear, you're pleasantly surprised to see a still vibrant, seemingly unblemished vinyl inside the dust jacket. Upon returning home and firing up your system, the unbelievable amount of surface noise emanating from your speakers confirms your worst fears. What to do? That surface noise shouldn't be a surprise – after all, the album was originally released in 1979 and who knows how many different hands and listening environments the record has been subjected to. Years of oils and dust particles have likely found a semi-permanent home lodged in the grooves of the album.
The above scenario calls for a deep clean and we have two very effective recommendations that we'll touch on later that can transform your collection from middling Good-VG specimens to Near Mint keepers that sound fantastic. First though, in order to avoid becoming part of the problem, any self-respecting audiophile should take steps to properly clean, maintain, and store their records. Remember, records are meant to be played and enjoyed – not just sitting on shelves or occupying a line in your Discogs database.
Pre-Spin Maintenance
Before dropping the needle, it's recommended to lightly brush the record to eliminate any surface dust and dirt. Not much pressure is required, especially if you're doing this with the record on a turntable. Let the record turn a few times in order for the brush fibers to gather both visible and micro-dust that is typically not visible to the human eye. With the brush still on the record, gently pull the brush towards you until you've cleared the record – this should remove the dust from the vinyl surface. This is better illustrated with video so here we go:
If you're worried about applying too much torque to your turntable in the process, you should use the "lazy susan" solution. In this case, we have a very affordable recommendation that can be used for this exact purpose.

→Recommended Lazy Susan: Aketek 12 Inch Heavy

Simply place the record on the lazy susan and brush the record in a circular motion following the grooves of the album. Regular use of a carbon brush will also help to control static build-up and reduce the amount of required wet cleanings over time.

Our Top 3 Cleaning Brush Choices
Record Happy Cleaning Brush bundle (includes cleaning solution & stylus brush)

Deep Cleaning
Occasionally, deep cleaning is going to be necessary to bring your newly purchased vintage record back to life. A microfiber cloth and/or a brush just won't cut it. In these cases, years of stubborn dust particles and just plain goop not visible to the human eye have likely settled into the grooves of the record and something more powerful is required to return the record back to playing condition.

What Not To Do
No, it's not recommended to use dish soap and warm tap water to "wash" your records. Commercial cleaning products (soaps, sprays, wipes) typically contain chemicals and additives that will dry out the plasticizers in the actual vinyl of the record. Tap water has impurities as well which will dry and linger on the vinyl, causing further damage. Additionally, it's pretty tricky to not destroy the record label in the "sink washing" process.
Deep Cleaning Recommendations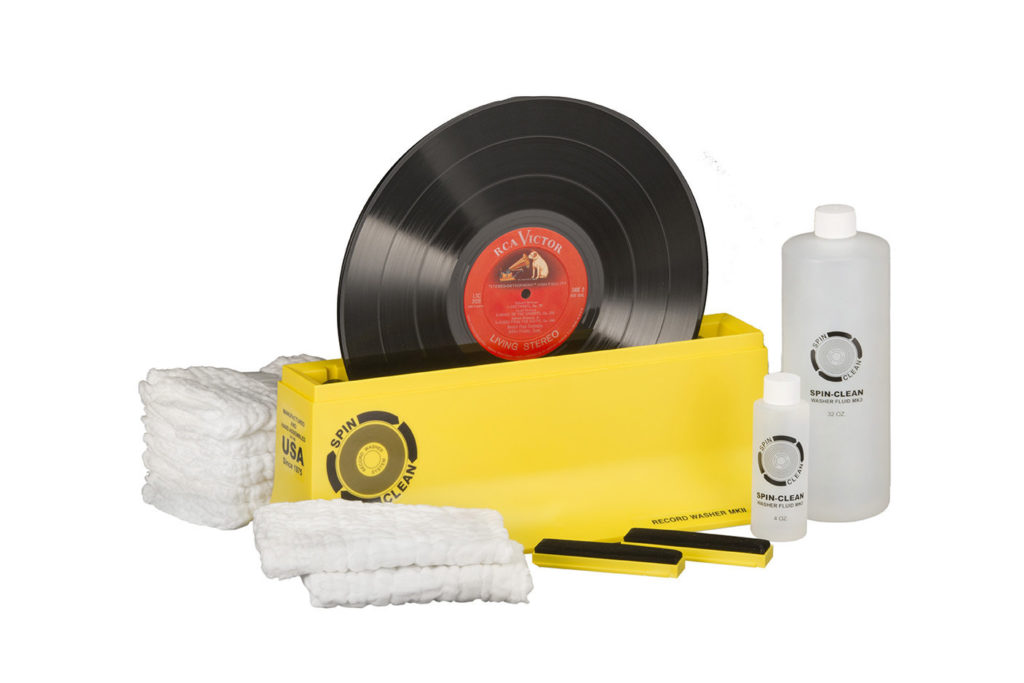 Spin Clean

One of the most popular solutions on the market is the Spin Clean unit. This is an affordable, simple-to-use apparatus which includes a safe cleaning solution and a well-designed system to thoroughly clean your records. There's a bit of manual labor involved, mainly turning your record a few times in either direction but the effort yields fantastic results.
This is the unit of choice that many indie shops use to bring their stock up to selling shape.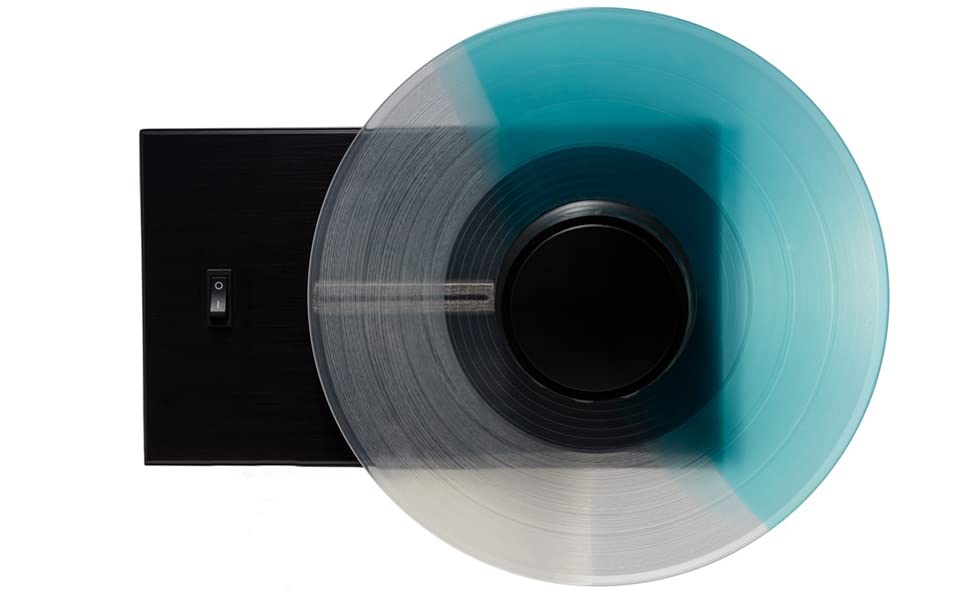 The newly improved 2nd generation Record Doctor combines a manual-turn wet cleanse with a powerful vacuum that sucks away loosened grime and gunk. Audiophile guru Michael Fremer recently raved about the unit, "The new hand-gripped rotator device that tops the spindle makes record rotation far easier than on the original machine, plus it completely covers the label. While it will take a few records to get the hang of it and figure out when a record is dry and ready to be flipped, it's a quick learn. Considering how easy it is to manually turn a record and how much money you save, for most people, especially those on a budget, not having a motorized record spinner is a more than worthwhile tradeoff—unless you own a used record store and plan on cleaning records all day (and night). Likewise, Amazon customers have bestowed a cumulative 4-Star rating for the Record Doctor.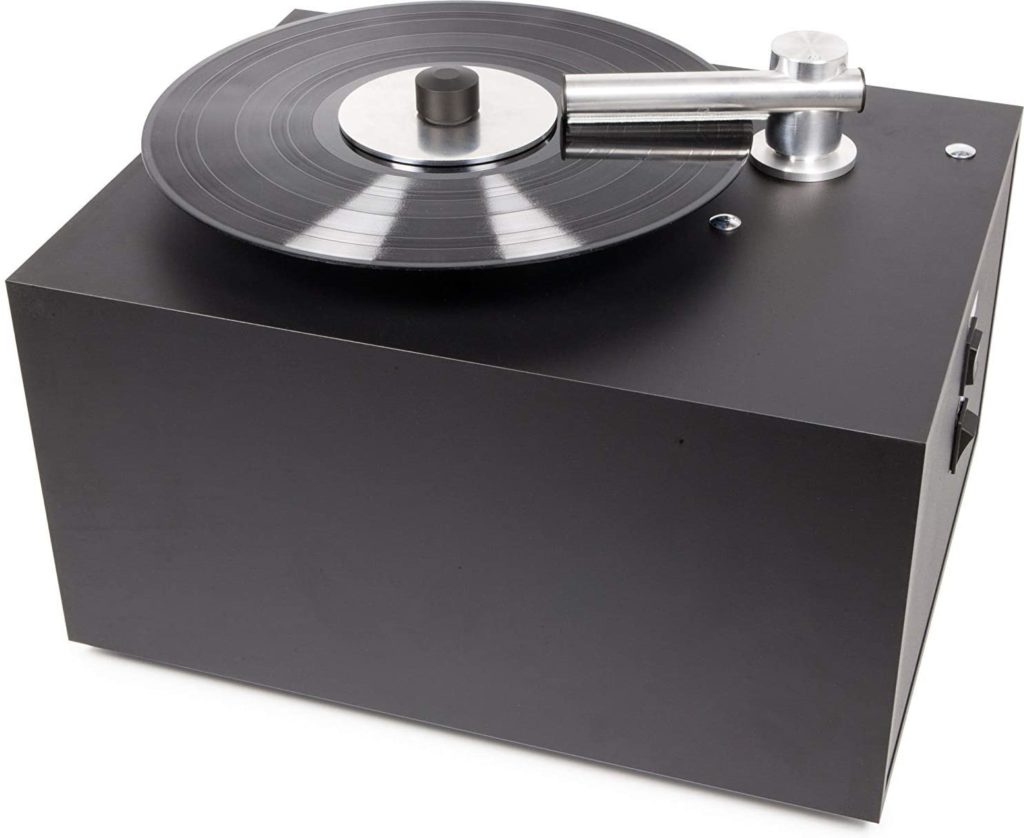 This is our most expensive recommended item but it gets almost uniform rave reviews across the vinyl community. Featuring a motorized mini-platter coupled with a powerful vacuum arm, the machine can remove the toughest grime with zero elbow grease required.

Here's an exhaustive 25-minute review by Michael Fremer:
Proper Storage
A regular maintenance program for your vinyl collection will ensure years if not decades of enjoyment for you and your loved ones. It's always recommended to store albums in an upright, vertical fashion, on sturdy shelves. Stacking records can warp or bend them, not to mention increasing the risk of scratching. Record shops don't display vinyl vertically just for customer convenience; they do it to protect their inventory. The ubiquitous Ikea Kallax is a very popular option among audiophiles worldwide. We've also outlined some other fantastic options in this post.
Quality Inner Sleeves
Vintage paper sleeves found in many albums are really bad for records and degrade over time leaving paper flakes and particles on your records. There are two fantastic archival anti-static sleeves on the market that will protect vinyl for decades.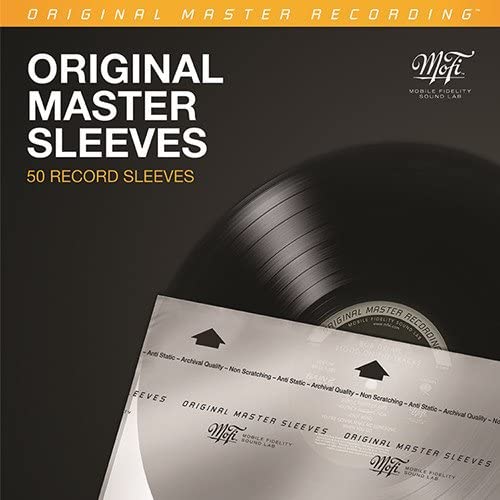 Mobile Fidelity Original Master Inner Record Sleeves
These imported, anti-static sleeves are similar to rice paper and feature three-ply thickness. The back construction consists of a paper layer sandwiched between two sheets of high-density polythylene (HDPE) with a translucent HDPE front. They are sold in packs of 50 and are highly recommended.
Invest In Vinyl Rice Paper Anti Static LP Inner Sleeves
Another great option and currently Amazon's Choice with a solid 5-star rating. These are also sold in packs of 50 and are a bit cheaper than MoFi.
We've tried to outline everything you should know about properly cleaning vinyl records and maintaining them safely for years to come. We'll occasionally update this article if new, groundbreaking products hit the market.