Last updated on February 19, 2020
So you've taken the plunge and started building a vinyl collection. Or maybe your vintage Sony direct drive has gone on the fritz for the 4th time. Or you've read the reports about that Crosley you got for Christmas two years ago and have decided to take matters into your own hands. Whatever your reason, we're confident that any of our recommended top 5 turntables can serve you for years as the centerpiece of your audio set-up.
A Quick Primer On Turntable Preamps & Optimal Sound
If you've never shopped for a turntable, it might be useful to review the basics. To successfully listen to records, you'll need the following:
Turntable
Phono Preamp
Amplifier/Receiver
Speakers
The function of a phono preamp is to boost the low voltage signal that the cartridge produces and amplify that music signal to your receiver/speakers. The preamp could be present in any of the following:
1. Built into your A/V receiver– indicated by a "PHONO" input
2. Built into your powered speakers – indicated by a "PHONO" input
3. Built into your turntable
Importantly, If you're serious about quality sound and ease of future expansion or experimentation (trust us…), we always recommend the following "component" set-up: a quality turntable, a good amp/receiver with a built-in phono preamp, and a pair of "passive" non-powered speakers. This video from Amoeba Music lays everything out nicely and is highly recommended viewing:
Belt Drives vs. Direct Drives – What To Know

With a turntable, the ultimate goal is to enjoy consistent, clean, accurate sound. The vinyl medium inherently provides more detail and warmth than otherwise available via compact disc or popular streaming platforms. So, audiophiles are always concerned with consistency in order to take full advantage of this superior sound.

Think about it; a turntable has many moving parts – most obvious is that spinning platter which holds the vinyl record. Powering that platter is accomplished in two distinct ways: Belt drive motors or direct drive motors. Both have advantages and drawbacks.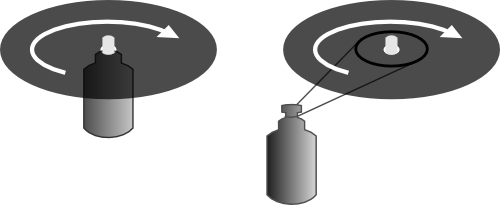 The direct drive system features a motor attached to the platter's center spindle which provides even, consistent power to move the platter at the chosen speed. The only possible disadvantage to direct drives is the fact that the close proximity of the motor to the spindle can cause vibration which could impact the overall sound during playback.
Alternatively, in belt drives, the platter is moved via an elastic belt attached to a side-mounted motor. The major advantage here is the fact that the motor is set away from the platter and isn't directly attached to the spindle. Operating a belt drive turntable is more of a "manual" exercise – you need to change the belt diameter depending on which speed you need to play.
A direct drive motor has more torque and can get up to speed faster than a belt drive – typically by just changing a selector or pushing a button. We could go on, but we won't! You can easily find raging debates online as to the merits of either system. The important thing to know is that audiophiles hold both systems in high regard which is why you still see both types of turntables continue to be in production today.
Enlightening, yes? OK, without further delay, let's get to our recommendations for the best turntables on the market today – all priced less than $500.
What's not to love about this elegant, solid "upgrade" unit compared to lesser priced starter units. Pro-Ject includes some killer features including a one-piece carbon fiber tone arm and an audiophile quality Ortofon Red moving magnet cartridge that comes pre-installed. The belt drive system isolates the motor's vibration from the chassis to prevent noise from being transferred to the cartridge, and on to your amplifier and speakers.
The stiff carbon fiber tone arm provides a firm vehicle to deliver accurate, warm sound coupled with other nice touches like a 12″ solid steel platter sitting atop a sturdy MDF plinth with shock absorbing rubber feet.
Audiophile guru, Michael Fremer, gushed about the Pro-Ject Debut Carbon in his original review:
"The sense of depth and spaciousness plus the image stability is impressive. Most highly recommended. I don't know what else comes close for $399." – Michael Fremer
Finally, this unit looks uber cool and will fit any listening room decor with a variety of vibrant colors available including gloss white, piano black, red, blue, purple, and silver.
We're not gonna lie; we'd never heard of Fluance until we started researching new turntables coming on the market two years ago. It turns out Fluance is a long-standing Canadian company originally known for their quality loudspeakers. Three years ago they wanted in on the vinyl resurgence and made a splash in the vinyl community with the release of their initial RT81.
The belt-drive Fluance RT83 features a solid wood body made from audio-grade MDF. Aesthetically the walnut finish adds a luster and "vintage" appearance. The solid wood construction and rubber slip mat minimize the machine's vibration while it's turning, ensuring that the low-end is able to come through clearly while spinning things like hip hop or bass-heavy rock albums.

Likewise, build quality is exceptional, the on/off speed selector, metal S-shaped tonearm, heavyweight platter, and hinged clear plastic dust cover all lend an overall sophistication and polish to this unit. Most importantly, sound quality is excellent with the Ortofon Blue cartridge also present in this unit.
Set-up is straight forward and Fluance also includes a cool bubble level which helps to ensure proper leveling and optimal play. Highly recommended!
U-Turn Audio is based in Massachusetts and all of their turntables are built to order. The company, launched with a Kickstarter campaign in 2012, is comprised of three, self confessed audiophile nerds. Good news for us!
U-Turn Audio – Orbit Plus Turntable with Built-in preamp Price: $379.00 Now with built-in preamp, connects directly to powered speakers or amplifier High-performance turntable, assembled in the USA by U-Turn Audio Precision tonearm, Ortofon OM5E cartridge, acrylic platter, dust cover, adjustable Buy Now On Amazon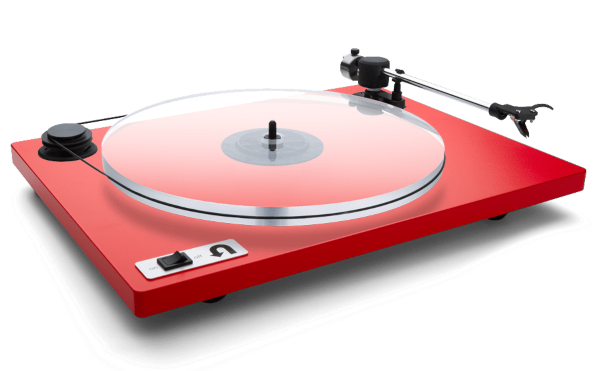 Similar to the Pro-Ject Carbon, U-Turn's Orbit Plus features a minimalist, post-modern, design-forward aesthetic with an array of eye-popping colors available. But, don't be fooled, these colorful belt-drive turntables are well thought out and perform admirably.

Each turntable goes through comprehensive listening, wow & flutter, and rumble tests, as well as a 15-point performance evaluation. Features include a pre-installed phono preamp and an upgraded acrylic platter. The highly regarded Ortofon OM5E cartridge also comes pre-installed and provides a highly detailed, natural sound.
In a nutshell, for less than $400, the U-Turn Orbit Plus delivers a true audiophile experience that belies its very reasonable price.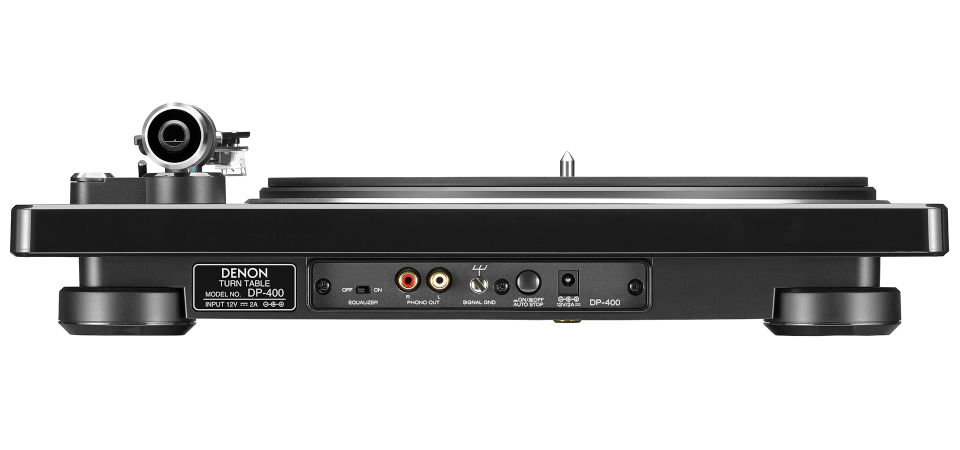 The Denon DP-400 is well regarded among the vinyl community, earning raves for it's "plug and play" ease of use and nice feature set. This unit includes an onboard phono preamp enabling easy connectivity without the need of additional equipment. It also features a nice creature comfort – automatic platter stopping with tonearm lift after your album side has finished playing. Unlike other turntables in our roundup, this unit supports 45, 33 1/3, and 78 speeds.

The S-shaped tone arm comes with a pre-installed, quality head shell and cartridge which can easily be upgraded if preferred. Also included is a removable dust cover that provides a low profile look and can also double as an album art display. Bonus: the handsome, black finish will look great in any environment.

Founded in 1910, Denon has a deep heritage of "firsts" in audio technology — from Japan's first audio electronics manufacturer, to producing the world's first commercial CD player and the world's first 13-channel AV receiver.
Last but certainly not least, the Audio-Technica is our least expensive recommendation, typically available for around $250. Audio-Technica has a great reputation in the industry; it has a built-in preamp, so the only other thing you'll need is a set of powered speakers and it also features a USB output that allows you to easily create digital files if you connect the turntable to your computer.

Like the Denon DP-400, this unit is also a 3-speed player supporting 45, 33 1/3, and 78 records. The selectable speed, direct drive motor means no hassling with belts or removing the platter to change things up. It includes a state-of-the-art S-shaped tone arm and an interchangeable head shell and pre-installed cartridge.
Weighing in at 20 pounds, this unit is built like a tank and is known to be inspired by the iconic Technics SL 1200 (dearly departed).
Investing In Quality

In conclusion, with any of the options outlined above, we're confident you can be up and running and enjoying your vinyl collection almost immediately. We've researched and thoroughly tested all of these units and were pleasantly surprised with the feature sets, quality builds, and awesome sound that can be achieved out of the box.